Well, I've gotten another, smaller monitor to work with my PC (earlier it wasn't), so I'm back at my old computer, only with a much smaller screen.
Anyway, I watched the Michael Bay film, The Island, recently, and here some of my thoughts about it
(and no, I didn't just watch it because Scarlett Johansson is a main character in it)
. There is a good review on Christiananswers.net/spotlight about the movie here (it contains some spoilers, so don't read it if you don't like those) :
I'm not a movie reviewer, so keep that in mind while you read.
There are several main messages the movie presents, but here are just a few:
1) The sanctity of life is a very important thing.
Basically, the movie has a pro-life message, since similarities can be seen between other ethical issues such as abortion..."what makes something human?" is the question, and it applies to unborn babies, human clones, the elderly (if someone is not "useful for production in society", are they no longer human and no longer possessed of human rights?), and others.
God is the Creator of life, and although it's possible I may be wrong, I think tampering with human life (including experimenting with cloning and trying to create life) is playing God.
2)
While not explicitly Christian, there was another theme presented by the film, besides the pro-life one, that certainly is compatible with a Christian worldview. As said in the review I linked to, a construction worker says "Jesus must love you" to Lincoln Six Echo (Ewan McGregor), and "I know that Jesus loves you" to Jordan Two Delta (Scarlett Johansson). There is also the use of Christian symbolism, but I won't say more than the key words, "hooks" and "net" and see if you can see the connection - I don't want to give too much away.
3) There seems to be a little bit of the whole race thing (the "black liberator"), but I won't go into that; I didn't really notice it even though the review mentioned it (maybe because I'm not adept at analyzing movies) but read the review at the link above for more about that.
The suspension of belief factor:
I think that overall, the movie didn't have me rolling my eyes at the unbelievability of the whole thing.
Some things were fairly unbelievable, but I think most or all of those scenes were used to make a specific point, which I won't tell about so I don't spoil any surprises.
The cars and other vehicles:
Something I previously thought was funny was the fact that the same model of cars such as the Dodge Magnum wagon are still used in 2019, but I think that the Magnums destroyed in the film were actually blown up, so that's understandable.
As for the other "normal" cars that are shown, such as the Honda Element, I guess that's also necessary to keep the costs down; even though a Bugatti Veyron is shown, to have your movie full up cars like that wouldn't be unrealistic as well as outrageously expensive. There are a few cool cars in the movie, including the awesome Cadillac Cien concept inspired by the F-22 stealth fighter, a Bugatti Veyron (even though I'm actually not a big fan of the Veyron), and what appears to be a modified version of the Lexus concept from Minority Report.
Lexus Minority Report concept car
Concept car from The Island
The "Renovatio" seen in the film is a very nice-looking boat, otherwise known as the Wallypower 118 yacht. It costs 22-33 million dollars. See here also for more info about it:
http://www.diseno-art.com/encyclopedia/archive/wally118.html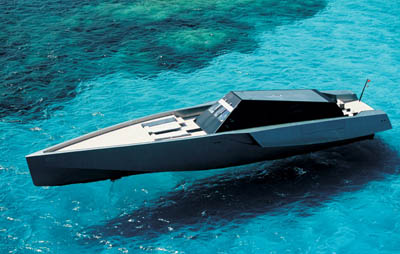 Don't forget about the jet bikes, either; who wouldn't want one of those?
Common criticism:
First of, I'll say that I am not one of those people who bashes Michael Bay or the film, even though you'll find an awful lot of those people. Many people criticize the movie for a variety of things, but I believe the most common criticism of it is the conspicuous product placement ("MSN Search", XBox", the Puma logo, etc.). Although I did think that did seem like a bit much at times, I think it makes perfect sense, because Michael Bay said the money generated by product placement was needed to make the movie. He said,
"We made about $850,000 on that,' he says. 'And we needed that money to get this movie made."
Of course, it's probably preferential to have less obvious advertising, such as using cars from a certain brand and being paid for it (I think the makers of Iron Man were likely paid by Audi to show their cars in the movie), but that probably wouldn't generate as much money.
OK, I've written probably too much of my unprofessional "review" - I've got to get to work watermarking my photos. So go watch the movie.
-Max out