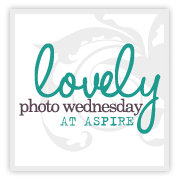 Yes, you probably know what this means: another photo!
But you don't get tired of good photography (or at least good efforts) now, do you?
I'm wondering if I should change my photography name back to my name - maybe with "photography" after it, this time - or keep the "Seventh Element Photography" moniker...I'm thinking, I'm thinking...
(remember The Thinker, in Night At the Museum 2: Battle of the Smithsonian?)
Note: the watermark on the photo was from a while back, so that's why it's my name; I haven't decided yet.
It was very difficult to choose which one to display for at least two reasons:
1) I have multiple photos I think are worth displaying
2) I don't want to display a photo there's a good chance I may enter in a contest or challenge
However, if I'm going to be displaying a "lovely photo" every Wednesday, I may eventually get to put a bunch of them on here. As for the second reason, I'll just have to take that risk.
Anyway, here's the photo.
Refreshed
A life of gray
Starting with this one, I'm going to start being more creative with photo titles...in my opinion, a good title can complement a photo, whereas a generic name such as "Flowers" does nothing for it.